If there is one thing homebrewers are, it's frugal. Well, most of us anyway. Well, this is an easy post for those who like to use hop shots. If you are not familiar with hop shots, they basically extract the hop resins with some process that is mysterious to me using CO2 from the cone. Look, I personally don't care how it works. All I know is it does. Some craft brewers have moved to using hop extracts for their bittering in highly hopped IPAs just for the purpose of getting a lot less kettle loss due to water being absorbed into the plant matter. Hops shots make sense in this application since you are just looking at bitterness, not flavor or aroma. Hops shots themselves will run you about $4 per 5ml syringe on most homebrew supply shops. What if I told you that you can buy a can of co2 hop extract that is the exact same stuff for $21 per 100g? What if I told you that a 100g container will make you roughly 40 of the 5ml syringes at home? What if I also told you, that you can buy empty syringes and caps on Amazon for a few bucks and that in the end you can make your own hop shots for about $1 each? Well, if you or you and your friends use hop shots, I'm sure you are thinking "Tell us more!" That is just what I am going to do.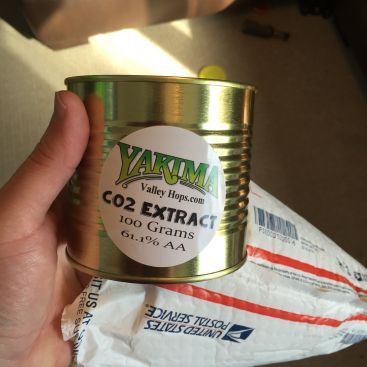 The first step is to buy your ingredients and equipment. That would be your hop shot extract, which you can buy at Yakima Valley Hops for about $21 for a 100g can. You can also buy their hop shots as well, but why would you when you are still going to save money this way? You also want to buy syringes. You can get 5ml or 3ml syringes. I chose 3ml because I got a box of 100 for under $10 and 50 caps for under $5. I figured I can either use 2 hop shots or 1 depending on my beer style. I also found the 3ml syringes to be a better value. Just don't forget to buy the caps, they don't come with the syringes unless you buy them that way, and they tend to be more expensive together than separate. Not sure why that would be. So to recap, below is what you need to buy.
Hop Extract (about $22 for 100g)
Syringes Either 5ml (About $18 for 100) or 3ml (about $7 for 100)
Caps (about $5 for 50)…….that's it.
Total investment (not including shipping $34-$45 depending the syringe). I split the cost with a fellow Manty Malter member and each of us got 25 hop shots for about $18 each. Not a bad investment.
In order to make the extract easier to work with, you will want to soak it in warm water, just like malt extract. From there, you can just open the can and fill the syringes fairly easily. Essentially that's it. Just fill them then cap them. The hop shots should remain good in the fridge for up to 5 years if you don't have any air in the syringe itself. I did have a few that had a tiny bubble of air in them, so I marked those to be used first.