Welcome to the page featuring my favorite recipes and a look at my home brewery. I have since linked my recipes to Beersmith's recipe cloud. This will give me ability to add updated recipe tweaks and better manage the recipes themselves using the cloud. Below that you will find some pictures of my homebrewery if you are interested in checking that out.
My Recipes
It is important to note that the way I store the main recipes is in a generic term. A lot of times I don't add my notes or tweaks to the recipe until I am very satisfied with the tweak. Also, portions like my efficiency are usually set to 72%, but that does not always mean that is the efficiency I got. So tweak my recipe to your system is all I am saying. I also want to ensure you that every beer I list on here, I have brewed. Maybe not all are award winners or 40+ point beers. But all have been enjoyed by me and my friends.
Note: Some of these recipes use home roasted malts. I have a section on how to make them. Check it out here if any of the recipes you want to use, have these malts in them. If you have any questions, Email Me.
The Award Winners (The Below Recipes have taken a bronze or better, for other recipes check out my Beersmith Cloud Page)
Vader's Fist Chocolate Oatmeal Stout (Revision 2): Overloaded with Chocolate Malt, but well received in competition.
Vader's Fist Chocolate Oatmeal Stout II (Revision 3): A scaled back version of Revision 2, it's a bit more of a classic and the current version I brew.
Hand of Judgement Smoked IPA: Lightly smoked American IPA
Skywalker's Legacy Pale Ale: A classic American Pale Ale with a bright hop presence and honey-like malt backbone. This has also taken 1st place as an IPA as well.
Chandrilla Common: A not-so-common California Common which does not use Northern Brewer Hops. It's my highest scoring average beer with scores averageing the 40′s. It's proof that although not classic ingredients, it's the final product that make the beer.
Land of Lincoln Pale Ale: A resiny and citrusy pale ale with more of a caramel-like and biscut flavor. The key is in the victory malt.
Personal Favorites: The recipes below are personal favorites of mine. They may not have won a medal yet, but they also have not been entered because they have hard time lasting long in my home to begin with.
Naboo's Nectar: A witbier that uses fresh orange zest soaked in vodka to give it a bright and clean citrus aroma and flavor. I've gone through 15 gallons of this in 4 months between 3 parties. A keg of this was destroyed in one night by 5 guys on a hot summer night. Need I say more?
Dark Side of the Moon: A Black Wit, which was a surprise sleeper hit at the Jaycee's Beer Lover's Brewfest. It was a lot more well received than I was thinking and even aquired a small group of fanboys who pretty much drank this most of the night.

Pictures of My Homebrewery
I can do 5 and 10 gallon batches on my system. Below I have listed several of the key pieces of equipment I have in my home brewery. What my brewery is, is a building just off of my garage. At this time I have no running water out there, but I do plan on hooking something up in the next year or two. I do not ferment in my brewery because I do not have any temperature control out there. But it is nice to have a dedicated area to brew and store your larger pieces of equipment. I also have a bar I built down in my basement, with a Kegerator I also built. I have included a picture of that as well.
Key Pieces of Equipment in my Brewery
3-6 Gallon Better Bottles
1- Pure O2 Aeration System
1- Crankandstein Grain Mill with Hopper
1-Counterflow Chiller (or build one here)
2-Keggles
1- 5 Gallon Pot
1 – 5 gallon Mash Tun
1 – 15 Gallon Mash Tun
1 – SQ14 Bayou Classic Burner
1- Older Turkey Fryer Burner
1- Refractometer
1- Small Blade Scale (.1- 1000 grams)
1- Cabinet Work-surface and Brewery Computer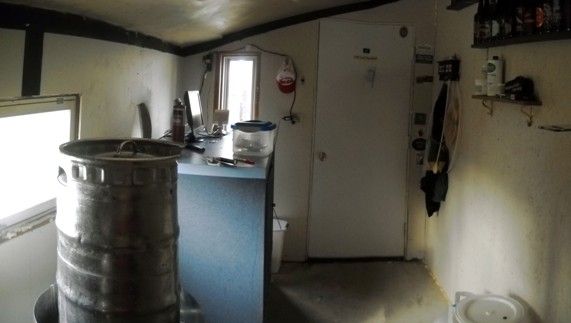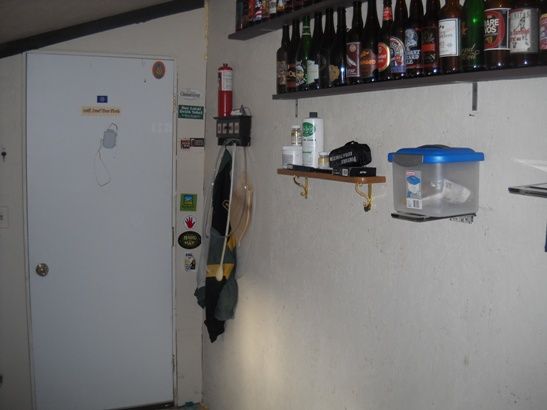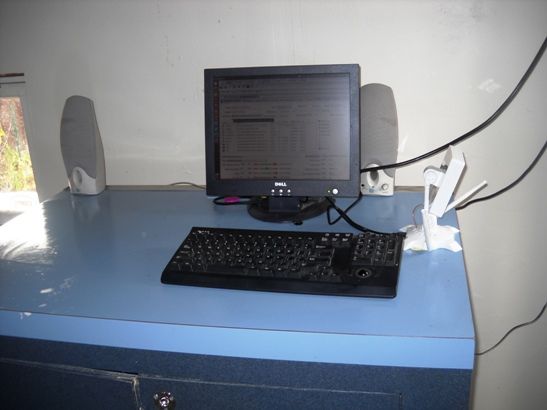 And as always, if you have any questions, Email Me.