Without a doubt, I think that Beersmith 2 is the best brewing software on the market at this time. Also, if you recall I did a review of several brewing software packages including Beersmith Version 1 (I did the review before the release of Beersmith 2), Beer Tools Pro, Pro Mash,  and Strangebrew. You can view both part 1 and part 2 by clicking the links here (part 1 – part 2). Also since I have done those reviews Beersmith 2 has come out and I have also heard of a new player in the brewing software arena, BrewTrax. Since there is not a free trial I will not be reviewing BrewTrax but if you are interested there are videos on the webpage. It carries a $32 price tag.  However, I do understand that in today's economy perhaps paying an extra $28-$35 for software is not in your budget. So don't think you are being left out. There are a few free alternatives out there. Granted they are not as feature rich as the pay versions, but there are some out there. Upon some searches I came across 2 recommendations from many places. One was Qbrew, which I was disappointed in, and below you will see why, the second one is called BrewTarget. When looking at BrewTarget's Page, it looked like it had some promise. You also have the option of using various brewing spreadsheets, such as the one here, but there are many many spreadsheets out there to pick. You can also use a search engine and find some online software as well. But I will focus on software with an interface that you can install on your computer since that seems to be what most people are looking for.
Qbrew
First let's look at QBrew. What I don't like about Qbrew is that you cannot figure out our mash or come up with a brew process There are very little options for customization. This is pretty much a calculator. I must add that the database selection seems very outdated and dismal. You can always edit and enter your own ingredients, but what's the point of taking the time if you cannot adjust mash entries and so on. This will tell you your Gravity, ABV estimates, IBU's, and color. But aside from tweaking your ingredients, you are pretty much stuck. You cannot figure in mash temperatures, adjust water volumes, and so on. So for a practical replacement for Beersmith, Beer Tools Pro, or Pro Mash, this is NOT a viable option in my opinion so don't waste your time if you are looking for something similar to Beersmith. Below are some quick screenshots for anyone still interested, if you are not, skip down to the BrewTarget review.
Brewtarget
Now Brewtarget showed some promise, and I have to say that after I played with it a bit, I was very impressed for 100% freeware. I highly recommend it. The database selections for ingredients was up to date and the selection of ingredients was outstanding. For example many malts that are add-ons in Beersmith 2, like Breiss and Rhar are in the grain database on Brewtarget. They also have newer varieties of Hops like Citra, Glacier, and Palisade included in the hop database. As far as the yeast selection goes, I looked for White Labs WLP401 which is a new variety and is a seasonal offering, it was in there. So the database options in my opinion are outstanding.
The second thing I like about Brewtarget is you can import and export to Beer XML. So if you have a friend who has one of the other programs, they all can import or export to XML as well. So you can share recipes without having to enter each piece of data one by one.
Some other key features I noticed was you can scale a recipe, it has mash and hop addition timers, and various calculators and conversion tools that many people use in Beersmith and Beer Tools. You can set your volume preferences, mash preferences, and so on. So I thought the best way to gauge it would be to take a recipe from my Beersmith 2 library and manually enter it into Brewtarget and see how easy it is to use without spending a lot of time setting it up, and how close the numbers reflect my numbers I got in Beersmith. I will lay that all out below. But if you want to jump right into the software, you can find it here. http://brewtarget.sourceforge.net/ It is free and open source.
So below is the Brewtarget interface. It may not have as many options nor be as pretty as Beersmith 2, but it has everything you need. I will lay that out below. Below was the final results I got for the recipe with very little tweaking of the options to fit my beersmith profile. In the end, I will show you my beersmith stats for the same recipe.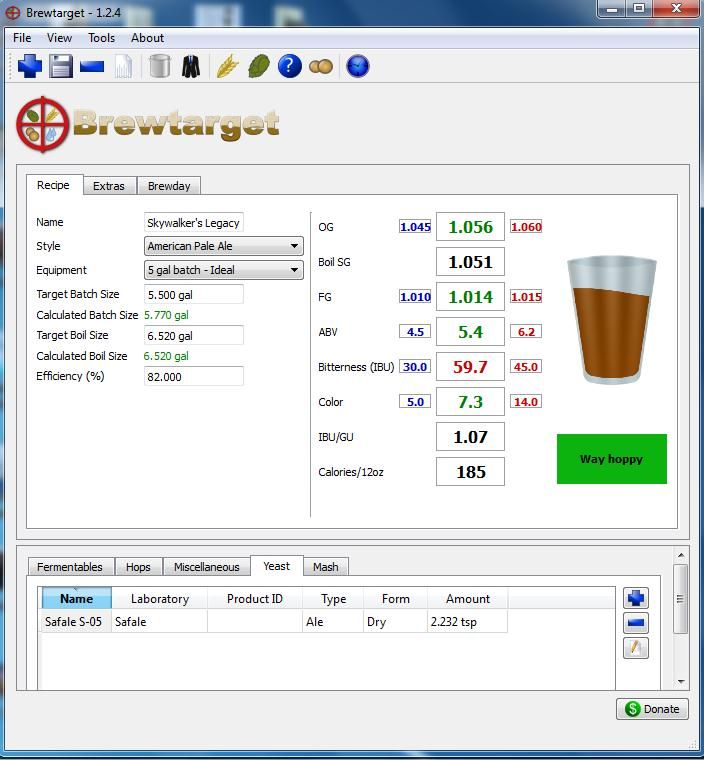 So Below you can see I am formulating the recipe. I have not done it yet, but I think at this point all I had left to do was select the correct style for the beer I was making. I was making an APA. But below you can get a good feel for recipe formulation. You select the style, batch size, efficiency, your grains, hops, additives, yeast, and mash profile.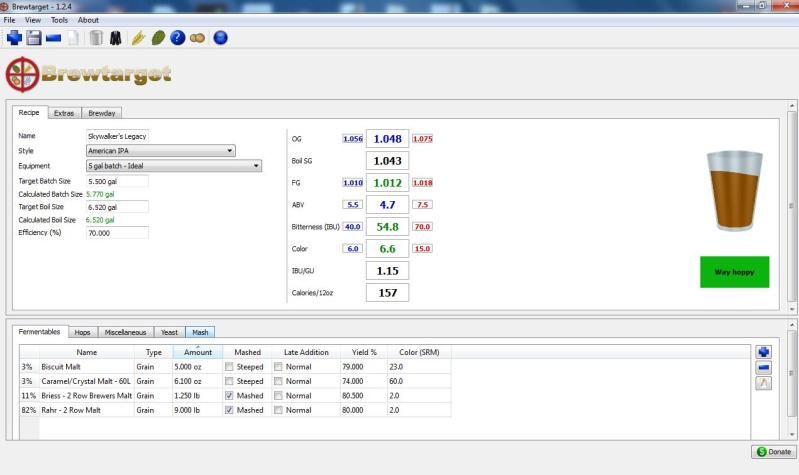 To me the only part of the software that was a bit "clunky" was the mash tool. It got the job done, but I sort of like Beersmith's options (Medium body, batch sparge for example). But to use this tool you first add your step, name it, give the quart/lb ratio of the grain, target mash temp, then you can just hit Mash Wiz and it will calculate your water volumes based on the recipe.
Here are the options laid out in the tools menu. Here you can adjust your options, set timers, scale and convert recipes. It's pretty nice for free software.
You can adjust the default units and formulas for consistent results.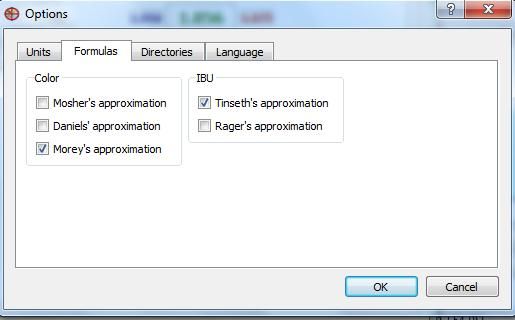 Under file options you can export or import recipes, print sheets for your brewday and more.
One cool feature was to show instructions right in the software instead of printing a brewsheet. I am showing that below.
I did want to show you the timers, this is a tool in Beersmith I use a lot, and I was very happy to see it here.
So in the end I have to say that for free software this is a great tool. I only breezed over the software quickly to get this review up and I am very happy with the end result of the output. I highly suggest if you don't have beersmith, you give brewtarget a try. I am very happy people have a  free option. I mean, you don't have all the features that make beersmith worth the money, but if you were to strip down beersmith 2 to what a brewer would NEED to get the job done. Brewtarget brings you that plus a few extras, like the timers. Below you can compare my dialed in beersmith results with my quickly thrown together Brewtarget results for the same recipe. You can see the numbers are very close.