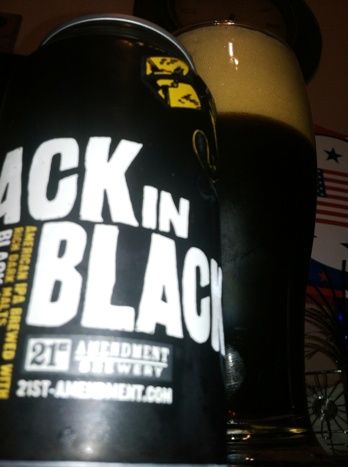 Today brings us to day 5 of the seven days of beer series. I have 21st Amendment Brewery's, Back in Black, which is a Black IPA.  I got this beer from Brewforia when our club got together and placed a large order for a bunch of beers we cannot get here in Wisconsin. From what I hear there are some people who have issues with long wait times or not getting beer from Brewforia, but in our limited experience we got everything we ordered with just a 1 week wait time. I guess like anytime you order something online, you are sort of taking a chance. I think the next official beer style that will be defined in the next revision of the BJCP guidelines will be Black IPA, at this time it's still considered a category 23 specialty beers. If you refer back to my post on creating your own beer style, Black IPA has gone through all the steps and is ready to be considered a true BJCP style. It has found acceptance in the homebrew community, which led to it being picked up on by professional breweries; it is being brewed a lot by both big name breweries like 21A, Alaskan, New Glarus, Stone Brewing, and Sierra Nevada just to name a very select few. Now you have entire flights in category 23 being devoted to Black IPA at some competitions. It's pretty ready. For me a perfect Black IPA has the color and malt character of a schwartzbier with the hop intensity of an American IPA. To date my personal favorite that exemplifies the style for me is Black Top from New Glarus, but 21A is one of the first commercial brewery's to brew this style regularly, so let's check it out.
Aroma: Dark roasted malts dominate with some great burnt caramel in the aroma. The hop character is catty and a bit piney. I really wish the hop portion of the beer was much bigger, it comes across more along the lines of a slightly more hoppy American stout.  Overall it is too balanced for an IPA in my eyes; it should be a bit more hop forward with the complex malt and roast taking a backseat. In this beer they are just about even. It's by no means a bad aroma, just not what I would expect with a Black IPA. I want brighter sticky hop aroma. The grainbill is right on. (8 points)
Appearance:  Black with some beautiful ruby highlights at the edges of the glass. It pours a nice long lasting tan head. (3 points)
Flavor: The flavor matches the aroma to a T. There is some very nice complex malt flavor with some slightly over cooked caramel, a touch of dark chocolate and a background hint of espresso. The hops are fresh tasting and a bit floral. The finish comes across a bit like sticky resinous pine. Again, the hops and bitterness are a bit lower than I would expect. The beer is very tasty though, I want to clarify that. Just because I don't personally feel the hop flavors are not where I expect them for an IPA, that doesn't mean the beer is bad. Just not what I expect per style. I do really enjoy the flavor; unfortunately I enjoy the malt a bit more than hops here. (14 points)
Mouthfeel: The mouthfeel is a bit on the light side, similar to dry stout which is very welcome for an IPA style beer. Many IPA's tend to be a bit fuller in mouthfeel and sweeter; it's welcome to have something a bit thinner and slightly dry. There is no astringency or hot alcohol.  (5 points)
Overall: I think my overall assessment is pretty obvious. This beer is very tasty, and I really enjoy the flavor. However, when compared to what I expect for an IPA, especially from a west coast brewery, the hop level is just not what I expect. All that aside, if there was a bit more hop aroma and flavor this beer would easily be right up there with Black Top. (7 points)
Score: Overall I scored this beer a 37. It is a very good beer but lacking the hops in both flavor and aroma. The grainbill is spot on in my opinion. I would drink more of this any day.