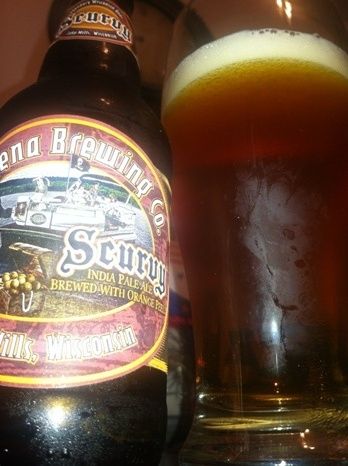 Day 4 brings us to Scurvy from Tyranena Brewing Company. I picked this beer up just yesterday and I have never had it before. What caught my eye is that it is an IPA brewed with Orange Peel. A self serving side of me wanted to compare this beer and its addition of orange peel to my method of extracting spice flavors with vodka. Granted I have not done an IPA, but it could be in the future just to see how forward I can get the fruit aroma with the vodka extraction. This beer will probably provide my baseline. I am a bit confused on where to put this beer, I guess one could put it in either the fruit beer category, spiced beer category because orange peel can be considered a spice, or specialty category. It would all depend on the brewer, and how much orange you get from the peel. I will consider this a spiced beer with an American IPA as the base.
Aroma: This IPA is maltier than I was expecting. I have had other IPA's from Tyranena and they are very hop forward. This beer is malt forward in the aroma. It is the smell of sweet caramel, soft bready malt, and dark honey. There is some underlying pine aroma and a faint orange-like character. I am not disappointed in the beer as a whole, but I was expecting a bit more orange in the aroma. As the beer warms it takes on more of a grand marnier aroma as the orange comes forward and melds with the malt and alcohol. (8 points)
Appearance: It is a beautiful beer, that's for sure. It is a dark orange and fairly clear with a nice very light tan head. (3 points)
Flavor: I really like the flavor. The malt is soft and smooth, with a bit of caramel and crusty bread. But the hops do take a center stage, as they should. The Hop flavor is sticky and piney, with some white grapefruit as well. There is a lot more orange in the flavor than there was in the aroma. The orange comes though in the finish more so than in the drinking of the beer itself. Since this was brewed with orange peel rather than zest (or so I assume), I would expect the pith of the orange peel to contribute to the bitterness. The beer is quite bitter but not harshly so. The beer is just a touch sweeter than I would like, so it's the type of beer that on a hot day in July you could only have 1 or 2. If the beer was a touch more dry and had a bit more orange flavor to it, it could be a very quenching beer. (14 points)
Mouthfeel: The beer is solidly in the medium mouthfeel range with some nice smooth creamy texture. There is a touch of astringency; it could be from the pith or the hops. Still, I noticed it. (4 points)
Overall: I love the idea of this beer, but for me it fell just a touch short. A bit more orange in the aroma and flavor would have been nice. I had an IPA one time brewed with citra and palisade hops from Titletown brewing company and it got a lot of orange-like character just from the hops somehow. It was one of my favorite IPA's for quite some time. I would love to achieve that, and to be honest that is what I was expecting from this beer seeing as it actually has orange peel in it. Don't get me wrong, the orange is noticeable. It's not the summer quenching IPA I was expecting. Still, it is a very tasty IPA. (7 points)
Score: I scored this beer a 36 which for me would be a B- or C+. It's a very good IPA, but if you have to hunt for the orange aroma in a beer that boasts being brewed with orange peel it needs just a touch more orange character.