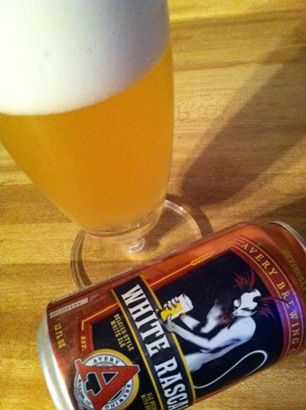 The second beer in the Seven Days of Beer series is Avery's White Rascal. The reason I chose this Belgian Witbier is because I recently brewed a witbier (click HERE for the recipe) and I wanted to see how mine stacked up against a great brewery's version of this style. Not to toot my own horn but I just loved my witbier I brewed with the vodka extracted orange peel. It is the first beer I brewed that literally was gone in one afternoon. I brewed it for a graduation party, and with about 6 people, we drank all but 16 ounces of the whole keg. I will post that recipe soon, but for now, I wanted to try Avery's version of this style.
Aroma: Slightly sweet orange blossom honey-like aroma. There are background notes of lemon and black pepper. The coriander brings a slight orangy citrus that supports the lemon-like fruityness. The typical spicy, lightly peppery witbier yeast character is there for sure. Typically, I like my witbiers to be a bit more citrusy than this. But it fits well within the style. A bit more of a hint of tartness in the aroma would also be nice. (9 points)
Appearance: A bright yellow color with some substantial haze. Poured a very loose frothy head. (2 points)
Flavor: The front end of the flavor is a bit lacking for me. There is a bit of sweet honey-like flavor, and a bit of grainy wheat. The middle and finish are great though. The middle is where the spice and pepper reside. Then rolling up in the end is the citrus flavor. The grainy wheat malt flavor lingers long into the finish. What it's lacking is the crispness that this beer should have. Although optional, I like to have a touch of tartness in a witbier that this beer does not have. It is easy drinking and tastes good. (15 points)
Mouthfeel: The beer is a medium body beer but finishes nice and is very quenching. No astringency and slightly creamy. The lighter flavors do allow you to taste the alcohol in the beer even though this is not a real high alcohol beer. (4 points)
Overall: Overall, it was not what I was expecting, but it is a very good beer. Personally what I look for is a bit more fruit and spice in my witbier that White Rascal has. All that aside the flavors and aromas are all within style and the beer is one heck of a summer treat. A bit more orange or lemon would put this beer over the top for me, but the spice is right on. (7 points)
Score: 37 points. This puts the beer in my opinion at a B+ to A- range. With that said, I have say I proudly think my beer would stand up to this beer, and better yet, it fits my personal taste with a bit more fruit and tartness. So if you prefer a more orange-like and tart witbier than Avery's White Rascal, try brewing up my witbier.