There has been a lot of buzz over the past couple of years about Brew in a Bag. I had 1 semi-failed attempt at it, and the only reason for the failure was that I didn't have the correct sized bag. I made a decent beer, but not exactly what I was shooting for. We have several members of our brew club who do brew in a bag and have great results. I have been on the fence about doing brew in a bag myself more often, because I enjoy doing a traditional mash, and sparging. I also like that the grain bed acts as a filter clarifying your beer, which is an admitted downside of brew in a bag. You run the risk of having either more particulate in your boil and/or can end up with haze. I am attracted to how simple the equipment is. So I thought, what if I remove the manifold from my mash tun, and use a bag as my manifold. Then I can still mash traditionally, still sparge, and when the brew day is done, just remove my bag (maybe give it gentle squeeze to get just a bit more sugar out, rinse it, and be done. So that is exactly what I did. I purchased 2 bags like this one here.
http://www.midwestsupplies.com/nylon-extra-large-straining-bag-2-x-3-coarse-mesh.html

For more on brew in a bag, check out These 2 podcasts, these are direct links to the brew in a bag topics. (Basic Brewing Radio – The Brewing Network)
So before my mash I washed the bags in hot water to remove any residue from manufacture and removed my manifold in the mash tun (You really don't have to remove your manifold if you do not want to, but I did for the sake of the experiment). Below is what my 5 gallon setup looked like.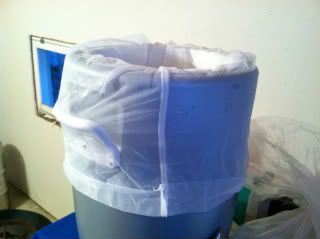 With all that in place I got my mash underway.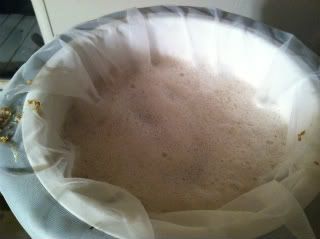 As you can see below, the 1st running went through very well.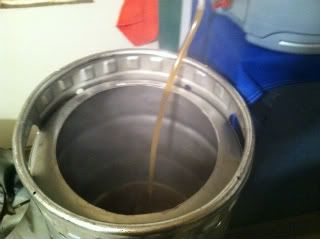 Now, I would love to say this whole process went through without a hitch, but I did get a bit of a stuck sparge during my 2nd batch sparge. I think it was from grain and proteins that may have collected around the bottom of the bag hole. This was OK in a way, because I was a bit concerned with channeling and planned on doing this next step during my 3rd round of sparging, but I ended up doing it sooner. I simply lifted the bag up and slowly dunked it over and over in the hot sparge water, and that took care of the issue. The reason i wanted to do the dunk was to rework the grain bed in case of channeling and give everything a good chance at mixing.
So now comes the important part. What was my brewhouse efficiency. Well, normally I hover in the 72%-75% range fairly consistently with my setup. I will have to do a few more beers like this to be sure, but my efficiency for this experiment was 82%. So I gained 10%. This is more than likely from the rinse and dunk during the 2 stages of sparging and also because I was able to gently squeeze the bag getting just a bit more sugar out in the end. I still don't want to aggressively squeeze it, still fearing some tannins even though others say that's been debunked.
All in all I think this was a success and probably will brew this entire summer with this method. If I keep getting great results and decent efficiency, I will probably make this my default method for brewing. Oh, and for those who care, below is a picture of the beer mid-fermentation. I know some of us beer guys like looking at this sort of thing.