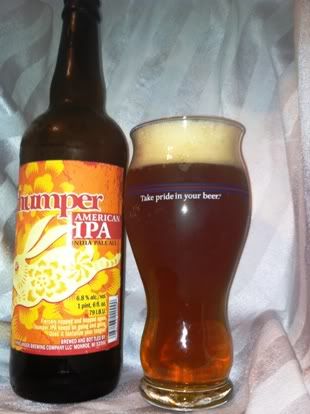 Today I picked up an inexpensive bomber of what appears to be a local (Wisconsin) beer. Thumper American IPA, is obviously supposed to be an American IPA. We should expect this beer to be a medium body, high in hop flavor, aroma, and bitterness. It should still have a decent malt presence to stand up to hops, but the hops should be star of the show in this beer on all accounts. In most cases the hops should be piney or citrusy, but with the new American varieties citrusy is not always the case with American hops these days. You need to use your best judgement that the hops in the beer are not continental or noble hops.
Aroma: The first thing I am hunting for is the typical American hop aroma, and not finding it. As a matter of fact, I'm not getting much in the way of intense hop aroma at all. I get some floral hops which is noticeable, but far from prominent to intense. There is a bit of bitter orange, and touch of peppery spice. The malt actually comes through easily and is a sweet caramel. The malt is a bit more forward than I would expect in an American IPA, if anything, the hops and malt are even and not hop forward. One other thing to notice is that the beer I have has an obvious hot alcohol presence, which is odd for 6.8% ABV beer. Usually, you can start to detect alcohol fairly easy at the 7% range, but this seems a bit too much for a beer this strength. Not really enjoying the aroma in here and sadly is not enticing me take that drink. (4 points)
Appearance: The beer pours a great stiff foamy head, and the head is extremely persistent. The color is simply beautiful. It is a glowing copper color and fairly hazy. Normally I would assume the haze is from dry hopping in an IPA but the lack of hop aroma leads me to believe otherwise. Still, the beer is pretty, it should be more clear. (2 points)
Flavor: The initial flavor of this IPA is OK, it is very mediocre. It's a bit sweet up front, and has a nice caramel presence…..but this is an IPA. There is a lack of hop flavor in the beer, that is really no surprise based on the aroma. Generally, if you don't get much hop aroma, the flavor will be lower as well. Then there is something very odd that happens. You get a great grapefruit bitterness in the finish that rolls on quickly into a bit of an intense and oddly flavorless bitterness. Sort of like that bitter flavor when you inhale hairspray. That bitterness is just simply bitter and does not have much flavor. Then as it fades I get some lingering malt sweetness. The alcohol is a bit noticeable in the middle as well. It's not really an enjoyable IPA, which is sad for a commercial brewery. I expected a lot more. It's redeeming quality is the malt profile is actually pretty nice. Caramel and the flavor of bread crust. But again, this is an IPA, the Hops are out of balance and not really enjoyable. (9 points)
Mouthfeel:The beer is medium body, and borderline Medium-high. The carbonation is a bit on the low side, which could be part of the reason there is not a lot of hop aroma. You want that carbonation to push the aromas out. (3 points)
Overall: Overall, this beer is a sad example of an American IPA. It is lacking hop flavor and aroma. It is not lacking the bitterness, but you need more than intense bitterness to make a good IPA. You need to have that flavor and aroma to balance out the malt. This beer is just bitter. I am surprised that a commercial brewery would actually put this product out to market. It seems like a first pass at a recipe that did not turn out. This beer would be good if you kept the same grain bill, but dialed back the bitterness and amped up the late addition hops…..a lot. This is one of the few beers that I would recommend not wasting your time on. Sorry , I'm going to finish this beer, but I'm not going to enjoy it. (4 points)




Total Score: 22 points which would be a D+ in my book.