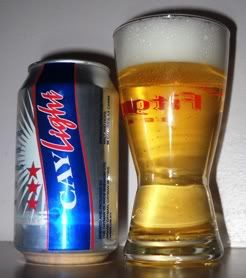 Today I am trying another of the beers I got from a friend who visited the Cayman Islands. This one is Caybrew's answer to Bud Light, Miller Lite, Coors Light, and so on. This is an American Lite/Light Lager. We can expect this review to be fairly short because this style does not have much to it, but I don't think I have ever reviewed an American Light Lager on here before.
Aroma: I don't find anything in the way of hop aroma. There is a dry grainy aroma and that's just about it.  A good solid swirl in the glass does give way to a bit of DMS (canned corn) aroma. Normally this is a considered a fault, but it is allowed in low levels in this style. The grain becomes more dominant as the beer warmed. (8 points)
Appearance: A very pale yellow and crystal clear. It pours a decent head and there is a layer of foam that sticks around. A nice looking Light Lager. (3 points)
Flavor: This beer is the light lager for the beer lover because it actually has some interesting flavor. The hop bitterness is very low, I suspect it's just enough to balance the small amount of malt in the beer. However, there is a very interesting cracked grain flavor. Normally when you think Bud Light or Miller Lite you are thinking everything is so in balance you don't get much malt or any hops, and maybe a bit of corn if you are lucky. This beer is a bit different and actually brings a bit of grain flavor the table. The beer is very dry and nice and crisp. I suspect some people will find the grain flavor off putting for a light lager, but I welcome it. The high carbonation also brings a slight acidic twang as well. If this were to cross a table in homebrew competition, I suspect most judges would be happy with it because while it remains within the style guidelines, it still pushes the boundary of American Lite Lager and has some flavor. Don't get me wrong, this is not a very flavorful beer, but compared to the hallmark examples of this style, I like it. I must note, that like most light lagers, as it warms it becomes a bit more unpleasant so drink it fairly cold. (15 points)
Mouthfeel: Very light body and has a watery feel, as it should per style. The carbonation is very high and crisp and gives a bit of acidic twang. (4 points)
Overall: The beer, for what it is, is impressive to me. For an American Light Lager it is very good, probably one of the best I have had. In all honesty I have not had as many Light Lagers as I have had IPA's (Bud Light, Miller Lite, Coors Light, Beer 30 Light, and Sam Adams Light is all I can think of for beers I've had from this style off hand), but this is my favorite Light lager so far. It has it all. It is dry, crisp, low hop profile, low malt profile, it actually has some flavor and does not taste as much like water. However, you still need to drink it fairly cold and fairly fast. As it warms it becomes a bit more harder to drink. (8 points)
Score: 38 points which is an excellent example of the style. This would be a solid B if I were to assign a letter grade to it. Remember, this grade is a comparison according to the style guidelines. I'm not saying this is the best craft beer you are going to have, but compared to other Light Lagers, this is top notch.