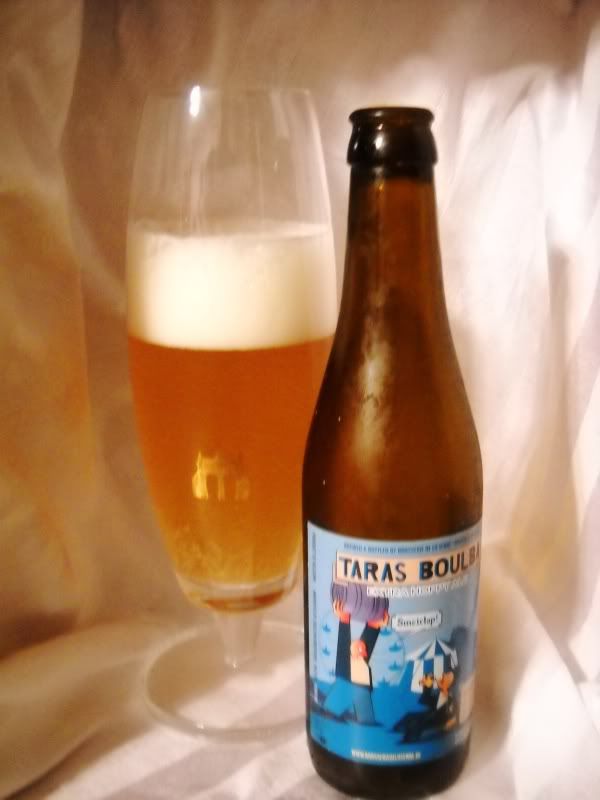 Today I have what I am thinking off the top of my head is the first Belgian Pale Ale I have reviewed to date. Taras Boulba is a Belgian Specialty Ale and call it Session Belgian Blonde, some sites are calling this beer a Belgian Pale Ale, and historically this could be true. The reason it may be getting called a Belgian Pale Ale is because of history. While today, the Belgian Pale Ale has become a malty and earthy copperish colored ale, in the past it was more influenced from a combination of the German Pilsner and British Pale ale hybrid. But while it is helpful to know that, the purpose of this blog is to review beers as you would if these were homebrews in a BJCP competition. This beer, in my opinion is more of a session Belgian Blonde than a Belgian Pale Ale. So before getting started, maybe take a moment to review the Belgian Specialty category as well as the Belgian Blonde Ale category.
Aroma: In the aroma I get honey and lemon peel, as well as a bit of cracker. There is an aroma of fresh cracked pepper and some noticeable Noble Hop aroma. Overall the aroma is is very straight forward and quite appealing for me, but may be a bit assertive for a session Belgian Blonde. (8 points)
Appearance: The beer is a bight gold with just a bit of haze, and the beer should be fairly clear. A large rocky head was formed right after the pour as I drank it, there was always a layer of foam covering the beer. (2 points)
Flavor: Lots of bitterness in the flavor. The beer starts off with a bit of honey and some sweet orange. But that is quickly cut off by a wallop of spicy noble hop flavor and a stiff bitterness on the back end. My guess would be Saaz hops was used for this beer. The flavor is very reminiscent of a a good Bohemian Pils. The front end and the middle of the beer is very nice, and the bitterness makes this beer fairly refreshing. If you are looking for that traditional Belgian yeast flavor found in many Belgian ales, you can find it. It is there, but it is not as pronounced as it is in other beers. Perhaps it's covered by the hops a bit. For a Belgian Blonde, the hops may be a bit overdone though. (14 points)
Mouthfeel: Medium body beer with a high level of carbonation. The hops provides a prickley sensation to the tongue. No hot alcohol or astringency. (4 points)
Overall: I prefer this beer to a traditional Belgian Blonde for a few reasons. Beers do not have to be big to be very good. This sessionable blong beer is a very good hybrid blend of what could be a Belgian Blonde and Bohemian Pilsner. You can easily drink more than one, and best of all you would want to. The bitterness is not overdone, yet is enough to satisfy the hophead……unless you are strictly an American Hops variety hophead. But this beer is very well done in my opinion. (8 points)
Score: In the end, I ended up giving this beer a 36 which would be about a B- or C+ in my opinion. This scoring was an example of how even though I personally loved the beer, i had to stick to what the guidelines state, and my interpretation of what a "session Belgian Blonde" should be. I know that I am the one who picked it as that style, but I just didn't scoring this as a Belgian Pale Ale would have done this beer any justice at all. Another avenue could have been a Belgian Pilsner. That would have been an interesting scoring opportunity as well.