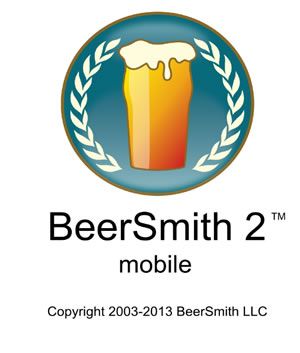 Today I have a special treat for you, BeerSmith 2 has gone fully mobile. Prior to this release, mobile phone and tablet users have been restricted to BeerSmith Lite, which gave you the ability to view your recipes and utilize some very basic tools, like a brewday sheet and brewday timers. However, BeerSmith has not released a fully functioning beer recipe formulation software package for Android Devices (Phones and Tablets), Kindle Fire and Kindle Fire HD, and very soon the Iphone and Ipad. I am a BeerSmith 2 user as well as a BeerSmith Lite user on my Kindle Fire. So While I was content with creating recipes on my laptop and transferring them to my kindle, I always wanted that ability on the fly. I usually have my Fire with me and it would be nice to tweak or enter recipes on the go. It's more handy than it may sound. The ability to enter a recipe of a fellow homebrewer that you like at a homebrew club  meeting, or even a competition. So I purchased BeerSmith Mobile today and let's take a very high level view of the software. All in all I'm very pleased, so much so that I would venture to say that if you do not own BeerSmith 2 for desktop and you own a tablet. You could probably get by with just buying the mobile version and not even deal with the full version. Granted there is a lot more control and bells and whistles in the full desktop version, but all the solid meat and potatoes of the software is included in the Mobile version and will be adequate for most brewers. I would also like to add that if you were a BeerSmith Lite user, all of the recipes you have saved will transfer over to your BeerSmith mobile App. You don't have to go through the trouble of reloading them. So let's take a quick look at BeerSmith Mobile.
The first Screen you see after the app loads is this one. As you can see, just like BeerSmith Lite, you can search recipes online, you have your personal recipes, tools, unit converters,and access to the cloud. But now you also have Equipment/Mash/Age profiles and an Ingredients Database. Clicking on each one is fairly Self explanatory. I would like to add though, that in the ingredients database and the profiles section you do have the ability to manually add your own equipment, ingredients, mash schedules, and ale or lager aging profiles. Just like in the Regular edition of BeerSmith Desktop. Below I will show a few screenshots of the Ingredient Databases and Profiles segments.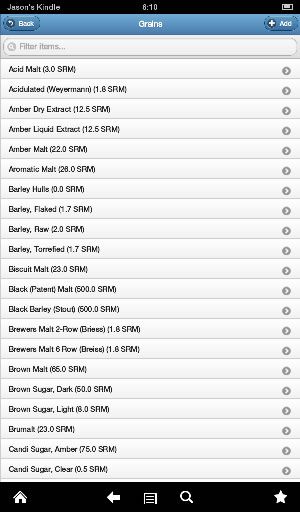 OK, so now let's dig in just a touch deeper, not too deep though. This is not intended to be a tutorial. But I do want to give you enough information to make an educated decision on if BeerSmith Mobile is right for you. So let's start looking a bit more at the important part, the Recipe formulation and editing. To the left is a list of my recipes, both my own original recipes and clone recipes I had on file with BeerSmith Lite. If you want to create a new recipe from scratch, you will notice the Add button in the upper right corner. But for now I want to edit a recipe since it will bring us to the same type of screen. I also want to mention that in order to transfer files from your PC you still have to utilize the cloud. Some people don't like this feature, but to me it doesn't bother me. I just upload the file from BeerSmith Desktop to the cloud, open the cloud on my Kindle (or your device) open the recipe and click copy. Then I go to my desktop and delete it from the cloud. It's no more difficult than transferring via a USB device. Some people don't like to be forced to use the cloud, but I don't see what the big deal is. You get storage for 10 recipes for free and if you want to pay for more space you can. Me, I tend to try to keep only my most favorite or current recipes on the cloud. I don't have an interest in storing all my recipes permanently there anyway. If you are interested in seeing what is currently on my could page, click here. Let's take a look at one of my recipes and see what it looks like in Mobile.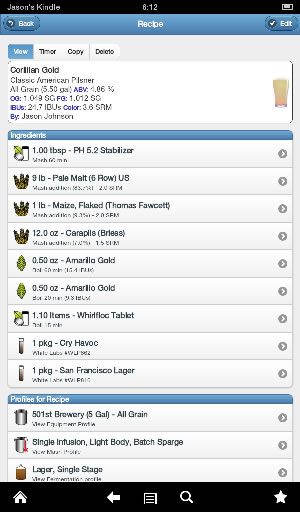 There is a lot you can access from this page, and lot you can do. Just like in Lite, you can view, have  brewday timer (which is also where you get your water volume and temperatures as well as your mash/hop schedules), you can copy the recipe which will take it to the cloud, and you can delete the recipe. By clicking on one of the ingredients you view the properties of that ingredient. You can also view the specifics of the recipe like volume, estimated ABV, IBU's, color and so forth. But one difference is if you look up in the upper right corner you will notice the edit Button. If you tap that, you will be taken to the image below. Since you will notice that I misspelled the name "Corellian" as Corillian, and I have 2 types of yeast in there. Let's edit the recipe and delete the cry havoc yeast from the recipe and edit the name. Something you couldn't do in lite.
So now you see the recipe and formulation and editing section. If this were a new recipe it would all be blank. But since we are editing we have most of it filled in already. From the top down you have the style category choose, the style accuracy slide bars, the beer color graphic, then the buttons to add grain, hops, yeast, miscellaneous ingredients and water profiles.  Below all that you have the ingredient list of your current recipe, in this case it's a pre-prohibition lager I just brewed. Below that, you have your equipment profiles, the ability to scale your recipe, your mash profiles, your aging profile, and your storage and carbonation method. You also have your session data and other data below. I should note that anyplace you see a gear to the right of the selection, you can customize and edit that profile. If there is just an arrow, you can view the properties or it takes you to a new window. At the very bottom you will the "save as default recipe" button. Just like in BeerSmith Desktop you can create a template that contains all your most common used information like your name, batch size, equipment profile, and so forth. If you save as a default recipe, any new recipe you open will start out like this. So if you just want to save the recipe and not make it a template for all your future recipes, use the save button in the upper right corner. In my default template I just have my name, my equipment, my batch size, a single stage ale aging profile (I use a keg as my bright tank/secondary), and a single infusion medium body, batch sparge mash profile. That's all that is in my template.
The last screenshot I want to show you is the timer/brewday sheet. This is where you can get your information on water volumes, mash in temperatures, sparge volumes, sparge temps, hop addition timers, mash timers and so forth. In other words, this is the part you use on Brew Day! That you can see below. But in conclusion, I think this app is well worth the $7.99 introductory price. But get it soon, it will go up to a whopping $9.99 in June. Still worth the price. Brad Smith has on his website that if you are a lite owner, sometime in the near future you will be able to upgrade to BeerSmith Mobile as an in-app upgrade and will only have to pay the difference. Personally, I couldn't wait and thought $7.99 or waiting for the in-app purchase price of $5.99 would make no difference to me. I wanted it now and the price is very reasonable considering you are getting almost all the tools you get with the desktop version, minus the inventory feature. Sorry inventory fans, it's not in this release of the app. But it's probably in the works. I have an Iphone and don't think I would like this app as much on the Iphone as I do on a tablet, but still….it's a great app worth having.